'PROGRESS' IN RUSSIA-HOSTED LIBYA TRUCE TALKS
Russia says there's been progress at talks in Moscow aimed at cementing a ceasefire in Libya.
Russian Foreign Minister Sergei Lavrov said Libya's UN-backed government, led by Fayez al-Serraj, had signed an agreement.
But renegade General Khalifa Haftar has asked for more time to consider the deal.
It's hoped he'll sign it on Tuesday.
The general has been trying to capture the capital, Tripoli, which is held by the government.
He's backed by Russia, while the government has Turkish support.
Last week both the Turks and the Russians called for a truce, then invited the warring sides to Moscow for talks to consolidate the ceasefire.
Credit to Source: Bbc News
CHINA ACCUSES WEST OF 'COLD WAR' AGAINST ZIMBABWE
China's foreign minister has accused Western powers of waging a "Cold War" against Zimbabwe, as he condemned the sanctions imposed on the economically embattled southern African state.
Wang Yi held talks with President Emmerson Mnangagwa in Zimbabwe's capital, Harare, as he rounded up a five-nation tour of Africa.
Zimbabwe has been under US and European Union (EU) sanctions for more than two decades because of alleged human rights abuses.
Mr Wang called for the sanctions to be lifted, and pledged to continue helping Zimbabwe to stabilise its economy.
Zimbabwe has said it will submit funding proposals for at least half a dozen projects, but did not elaborate.
In a tweet, the deputy information minister, Energy Mutodi, said Mr Wang's visit was a "slap in the face" for the UK, EU and US.
Zimbabwe would give preference to "Chinese business interests ahead of any Western country", he added.
China is building a new parliament for Zimbabwe at a cost of more than $150m (£135m) and has loaned Zimbabwe more than $1bn to rehabilitate its Hwange coal power plant.
Zimbabwe regards China and Russia as being among its "all weather" friends.
It adopted a "Look East" policy during the rule of then-President Robert Mugabe, who was ousted by the military in 2017.
He died last year at the age of 95.
Credit to Source: Bbc News
NIGER ARMY CHIEF SACKED AFTER 89 SOLDIERS KILLED
Niger's army chief Gen Ahmed Mohamed has been sacked, four days after militant Islamists killed 89 soldiers in an assault on a military base, inflicting the biggest loss on the military in a single day.
Gen Mohamed's dismissal, along with that of three other top officers, was announced by state radio following a meeting of the cabinet.
Gen Mohamed's tenure of more than two years has been marked by a sharp increase in attacks by militants linked to al-Qaeda and the Islamic State (IS) group.
He has been replaced by Maj Gen Salifou Modi.
Niger declared three days of mourning following Thursday's killing of the 89 soldiers at Chinegodar camp in the western Tillaberi region.
Last month, 71 soldiers were killed in an attack on the Inates camp in the same region.
Niger's President Mahamadou Issoufou is currently in France with the leaders of four other former French colonies hit by the insurgency in the Sahel.
At the start of the summit hosted by French President Emmanuel Macron in Pau, southern France, the leaders laid wreaths in honour of French soldiers killed in action in Mali last month.
Mr Macron has demanded that the Sahel leaders use the summit to reiterate their support for the 4,000-strong French military force there, which has been criticised amid the mounting insecurity.
The leaders of Chad, Mali, Niger, Burkina Faso and Mauritania are at the meeting.
Credit to Source: Bbc News
LESOTHO PRIME MINISTER TOM THABANE ASKED TO STEP DOWN
Lesotho's ruling party has asked Prime Minister Thomas Thabane to resign over alleged links to the 2017 murder of his wife, calling him a "threat to the nation."
The country's police chief has accused Thabane of involvement in the killing of Dipoolelo Thabane on the outskirts of the capital Maseru two days before her husband's inauguration.
The latest is that Thabane's second wife is also a suspect. Thabane, who is now 80, and Dipoolelo had allegedly been embroiled in bitter divorce proceedings.
We cross to our reporter in Maseru, Raphelang Radebe.
Credit to Source: SABC News
CORRUPTION TRIAL OF EX-ATHLETICS CHIEF POSTPONED
The trial of the former International Association of Athletics Federations (IAAF) supremo Lamine Diack on corruption charges has been delayed until June after new documents were submitted to the court in Paris concerning testimony that his son and co-defendant Papa Massata Diack gave in Senegal in November.
Parties have been given time to review the documents, which include a record of a hearing at which Mr Diack Jnr gave evidence, and bank records.
He remains holed up in Senegal - the country has refused to extradite him.
Earlier Lamine Diack arrived flanked by lawyers and security staff having been under house arrest in Paris since November 2015.
His co-defendants, former IAAF anti-doping chief Gabrile Dolle and lawyer Habib Cisse, also attended court.
All the defendants deny the charges.
Credit to Source: Bbc News
GHANA POLICE SUSPEND OFFICER AFTER FAN SHOT WITH RUBBER BULLET
The Ghana Police Service has suspended one of its officers pending an investigation into violence at football game on Sunday that left one fan with an injury from a rubber bullet.
Ghana's Football Association (GFA) has also condemned the violence and launched its own inquest into the episode at a match between Asante Kotoko and Berekum Chelsea in Kumasi on Sunday.
Fans were apparently angry with some of the officiating and tried to get close to the referee as Kotoko lost 1-0 to Berekum Chelsea.
The police statement said "the incident occurred when supporters of Kumasi Asante Kotoko FC went on the rampage after their league match against Berekum Chelsea FC at the (Baba Yara) Stadium damaging some Police Vehicles and injuring some Police officers with stones that were pelted at the Police.
Read More Credit to Source: Bbc News
LIBYA RIVALS MEET IN MOSCOW FOR TALKS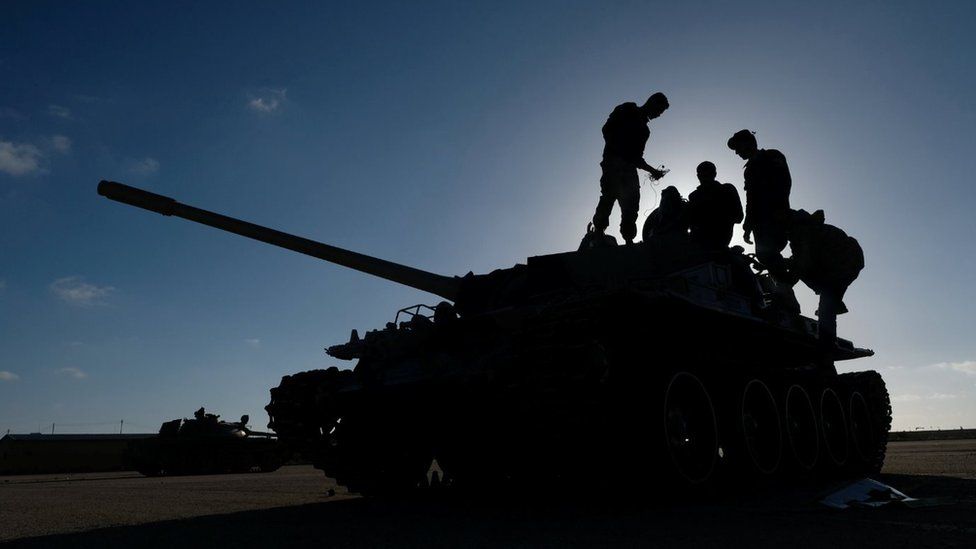 The leaders of the two main sides of Libya's civil war are in Moscow for talks on how to end months of fighting.
It is hoped both the UN-backed government and forces loyal to Russian ally Gen Khalifar Haftar will sign a ceasefire.
The talks are part of an initiative launched by Russia and Turkey at a summit in Istanbul last week.
Read More Credit to Source: Bbc News
'LOCUST INVASION' FORCED ETHIOPIAN PLANE TO DIVERT
An Ethiopian Airlines passenger plane was forced to abandon its landing in eastern Dire Dawa city after hitting into what appeared to be a swarm of locusts, an airline spokesman has confirmed to the BBC.
The spokesman did not give further details of Thursday's incident, but aviation industry websites are reporting that the Boeing 737-700 was forced to divert to the capital, Addis Ababa.
One website reported earlier that the insects were grasshoppers. It has posted a photo of the plane's nose cone smeared with dead insects:
East Africa has been hit by its worst locust invasion for 25 years, which has devastated crops across the region.
Swarms can vary from less than one square km (0.38 square miles) to several hundred square km, and there can be at least 40 million and sometimes double the number in each square km of swarm, according to the UN's Food and Agriculture Organization (FAO).
The plane flew through a small swarm, before encountering a bigger swarm which reduced visibility, reports say.
The pilots tried in vain to clean the windscreen with the plane's wipers and after failing to land in Dire Dawa diverted the plane to Addis Ababa, about 30 minutes away.
The plane was on what is normally an hour-long journey from Djibouti to Dire Dawa.
Credit to Source: Bbc News
DR CONGO TROOPS 'SEIZE REBEL CAMP'
The military in the Democratic Republic of Congo says it has captured a rebel camp in the east of the country from where many attacks were planned.
The camp, known as Madina, is in a forested area and was used for more than two decades by the Allied Democratic Forces (ADF).
Its capture is a significant setback for the rebels but comes at a heavy cost for the military.
On Sunday officials said at least 30 soldiers were killed in the fighting which also left 40 rebels dead.
Attacks against civilians have increased in recent months following the launch of an army offensive against the ADF in October.
Credit to Source: Bbc News
HEAVY SECURITY DEPLOYMENT IN GUINEA AHEAD OF PROTEST
There is a heavy security presence on the streets of the Guinean capital, Conakry, ahead of opposition protests against President Alpha Condé's suspected plan to amend the constitution so he can run for a third term in next year's elections.
Reports say most businesses have remain closed and the capital is extremely tense.
The authorities see the protests as an effort to plunge Guinea into chaos and have vowed to respond vigorously to any violence.
Previous demonstrations against Mr Condé's possible third term bid have attracted huge crowds.
They have been broken up by security forces leading to at least 20 deaths since October.
Credit to Source: Bbc News
UGANDAN IMAM WHO 'MARRIED MAN SUSPENDED'
A Ugandan imam who married a man thinking she was a woman has been suspended from his post, the Daily Monitor newspaper reports.
Sheikh Mohammed Mutumba was shocked to discover some two weeks into his marriage that his hijab-wearing wife Swabullah Nabukeera was a man named Richard Tumushabe, the newspaper reports.
The discovery was made after police arrested Tumushabe on suspicion of stealing a television set and clothes from a neighbour at his new marital home, it adds.
"As the police's normal practice, a female police officer, searched the suspect thoroughly before taking 'her' to the cells. However, to the shock of the officer, the suspect had stacked clothes in the bra to hoodwink that they were breasts," Mr Mugera was quoted as saying.
Sheikh Mutumba - an imam at a mosque in Kyampisi village, some 100km (62 miles) north-west of the capital, Kampala - had not had sex with his "bride" because "she" alleged that "she" was menstruating, the newspaper reports.
"We have already charged him with impersonation, theft and obtaining goods by false pretence," Mr Mugera was quoted as saying.
The Daily Monitor reports that Sheikh Abdul Noor Kakande, the regional kadhi (Muslim judge), said the incident was unfortunate, and the imam was being investigated.
It also quoted Sheikh Isa Busuulwa, the main imam at the mosque where Sheikh Mutumba preached, as saying that he had been suspended to preserve the integrity of the Islamic faith.
The Daily Monitor reported that Sheikh Mutumba has not been at his home for the last four days.
"He is too devastated by the incident and needs counselling," an unnamed source is quoted as saying.
Credit to Source: Bbc News
FOREIGN ASSETS OF ISABEL DOS SANTOS 'SAFE - FOR NOW'
Angolan courts have not taken any action to seize the foreign assets of the billionaire daughter of ex-President José Eduardo dos Santo but "will not hesitate to resort to such mechanisms if necessary", a prosecution spokesman has told Reuters news agency.
Last month, a court ordered the freezing of Isabel dos Santos' Angolan assets and bank accounts as part of an attempt by the government to recover about $1bn (£760m) it says it is owed by the ex-president's daughter and her associates.
It also demanded the seizure of her stake in local companies, including telecoms giant Unitel and bank Fomento de Angola (BFA), the state-owned news agency reported.
She said "a trial had been held in total secrecy" and the ruling was a "politically motivated attack" against her.
Often described as Africa's richest woman, Ms Dos Santos is estimated by Forbes magazine to have a fortune of $2.2bn.
The 46-year-old lives abroad, saying she moved from Angola because her life had been threatened.
She runs a huge business empire with stakes in companies in Angola and Portugal, where she has shares in cable television firm Nos SGPS.
Prosecution spokesman Alvaro Joao said the case was not being treated as a corruption case, but as a civil matter related to debts owed to the stare, Reuters reports.
"The parties can resolve the case in a number of ways: recognising the debt to the state, and paying it, or taking it to the end of the case to let the courts decide," he is quoted as saying.
Ms Dos Santos gained a high public profile in 2016, when her father controversially appointed her as the head of Angola's state-owned oil firm Sonangol.
She was sacked from the post in 2017 by President Joao Lourenço, her father's handpicked successor.
Credit to Source: Bbc News
CHINA CALLS FOR END TO SANCTIONS AGAINST ZIMBABWE
China's foreign minister has called for EU and US sanctions against Zimbabwe to be removed, saying they have no basis under international law.
Foreign Minister Wang Yi made the comment on his visit to Zimbabwe.
"The unilateral sanctions imposed by some countries and organisations on Zimbabwe have no basis in international law and they violate the legitimate development rights and interests of Zimbabwe," Mr Yi is quoted by Bloomberg news agency as saying.
Mr Yi arrived in Zimbabwe on Saturday as part of his five-nation tour of Africa. He has already visited Egypt, Djibouti and Eritrea and is planning to go to Burundi.
In October the Zimbabwean authorities declared a public holiday to encourage people to protest against the sanctions.
The US and EU have both maintained sanctions, citing a lack of progress in democratic and human rights reforms as well as restrictions on press freedoms.
They target both specific individuals and companies.
US financial and travel restrictions currently apply to 85 individuals, including President Emmerson Mnangagwa.
There are also 56 companies or organisations facing restrictions.
Credit to Source: Bbc News
MALAWI CHIEF JUSTICE REPORTS BRIBE OFFER IN ELECTION CASE
Malawi's Chief Justice Andrew Nyirenda has asked the country's Anti-Corruption Bureau (ACB) to investigate bribery attempts targeting judges presiding over the presidential elections case.
Justice Nyirenda wrote to the bureau that there had been attempts to bribe the five-judge panel that is hearing the petition.
ACB director Reyneck Matemba confirmed to several newspapers that the complaint came from the chief justice and said that investigations had started.
He told the Daily Times newspaper that the bureau had the names of those involved in the bribery but refused to disclose them.
Mr Matemba said the allegations were being looked into urgently before the determination of the court case.
The petition challenging President Peter Mutharika's win was filed by the candidates who came second and third in the May 2019 election.
President Mutharika was declared the winner with 1,940,709 votes, followed closely by the MCP's Lazarus Chakwera with 1,781,740.
UTM's Saulos Chilima, Mr Mutharika's former vice-president, came third with 1,018,369 votes.
Credit to Source: Bbc News
ETHIOPIA INVITES SA TO MEDIATE IN MEGA DAM ROW
Ethiopia's Prime Minister Abiy Ahmed has invited South African President Cyril Ramaphosa to mediate in its dispute with Egypt over the future of the Grand Renaissance Dam.
It is not clear what role South Africa will play in the dispute which the United States is already helping to mediate.
Construction of the dam is set for completion this year and it will become Africa's biggest hydroelectric power plant.
At the centre of the dispute is the speed at which to fill up the mega dam on the River Nile.
Ethiopia wants to do it in six years, but Egypt has proposed a period of at least 10 years - fearing that a shorter span will affect the downstream flow of the river it relies on for 90% of its water.
The latest round of talks on the dispute ended in a deadlock last week and negotiations are set to resume in Washington on Monday.
Prime Minister Abiy told journalists in South Africa's capital, Pretoria, that President Ramaphosa had been invited to mediate in his capacity as the incoming chairperson of the African Union.
He said:
"Ethiopia always believes in win-win approach with Egypt and Sudan. The request to President Ramaphosa [is because] he is a good friend for Ethiopia and Egypt, also as the incoming AU chair. He can make [facilitate] a discussion between both parties so as to solve the issue peacefully."


Three-way talks between Egypt, Sudan and Ethiopia have made no progress in four years, and the intervention of the United States shows the seriousness of the situation.
Credit to Source: Bbc News
ABIY RESPONDS TO TRUMP'S NOBEL COMPLAINT
Ethiopia's Prime Minister Abiy Ahmed has responded after US President Donald Trump appeared to take credit for Mr Abiy's Nobel Peace Prize.
Mr Abiy said he did not have "any clue about the criteria, how the Nobel Committee select an individual for the prize".
So he said that if Mr Trump wanted to complain he must go to the Nobel Committee in Oslo.


"I'm not working for the prize, I am working for peace, a very critical thing for our region," he added.
Mr Abiy was replying to a reporter's question in South Africa's capital Pretoria.
In October last year, Mr Abiy was awarded the Nobel Peace Prize after he signed deal with Eritrea's President Isaias Afwerki to end the "state of war" between the two nations.
But in an election rally, Mr Trump implied he should have got the Nobel Peace Prize.
He said:
"I'm going to tell you about the Nobel Peace Prize, I'll tell you about that. I made a deal, I saved a country, and I just heard that the head of that country is now getting the Nobel Peace Prize for saving the country. I said: 'What, did I have something to do with it?' Yeah, but you know, that's the way it is. As long as we know, that's all that matters... I saved a big war, I've saved a couple of them."


Although he did not name the Nobel Peace Prize winner or the country, it is clear that Mr Trump was referring to Mr Abiy as he is the only head of state to have received the award since Mr Trump was elected in 2016.
Credit to Source: Bbc News